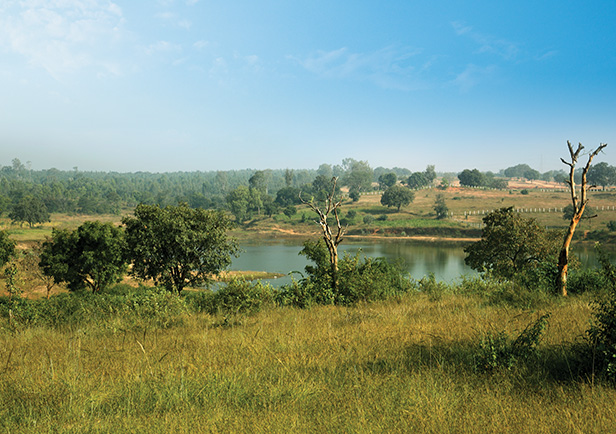 B-Block
Hejjala, Mysore Road, Bangalore

Completion By:
February 2017
Development Area:
6.1 acres
Area range:
30x40 ft, 30x50 ft,
40x60 ft, 50x80 ft
and Odd plots
Overview
Indium Lakeforest—A multi-faceted development
Conceived as an eco-friendly integrated township, Indium Lake Forest is being shaped with high quality infrastructure. Its unique design promotes an eco-friendly lifestyle and minimises the carbon footprint through efficient management of natural resources.
Indium Lake Forest is witnessing multifaceted development across various domains – residential, commercial, senior citizen living, resorts, etc.
Residential Development
Conceived as a full-fledged gated community, Indium Lake Forest Integrated Township features eco-friendly living spaces. To ensure a comfortable lifestyle, it will have all modern facilities.
40 acres of approved housing layout is being marketed under the 'ILF Picture Perfect Plots' brand. Construction activities are slated to begin this year.
Retail and Commercial Development
Indium Lake Forest Integrated Township offers premium retail and lifestyle brands a unique opportunity to reach High Networth Individuals. With a combination of shopping and recreation options, this is sure to emerge as a 'happening' destination.
Over 18 acres of High Street Land Parcel.
Has a development potential of over 1.5 Million sq.ft. of shopping and commercial area catering to a minimum population of 20,000 people
Business Park
With structured development and world-class amenities, the Business Park offers corporates a prestigious address. Green buildings with cutting edge design concepts will ensure optimum use of natural resources.
30 acres of Business Park, with a developable area of 2.6 Million sq.ft.
Caters to core economic activities like IT, ITES, Biotech, High Tech Manufacturing and related services.
Resort, Spa & Wellness Centre
The Resort, Spa & Wellness Centre is a peaceful and spiritual destination. Created with lush greenery and medicinal plants, it will offer services like massage, beauty treatment and relaxation therapy.
15 acres of Green Resort and Spa.
Conceptualized to fit the scenic environs of the location.
Will have……… hotel rooms and 40 serviced villas managed by an international hospitality group.
Retiree's Enclave
A friendly and serene atmosphere is designed to bring joy to the elders. There is ample scope for group activities and spiritual pursuits. Regular healthcare check-ups and alert security personnel will be arranged.
Senior Living enclave spread over 15 acres.
Will have a combination of multi-level villaments and cottages, eco sensitively designed for comfort
Sizes range from 600 sq.ft. to 1200 sq.ft.
Well-equipped to meet spiritual, sports and hobby requirements of elders
Managed by a professional group experienced in senior care
Master Plan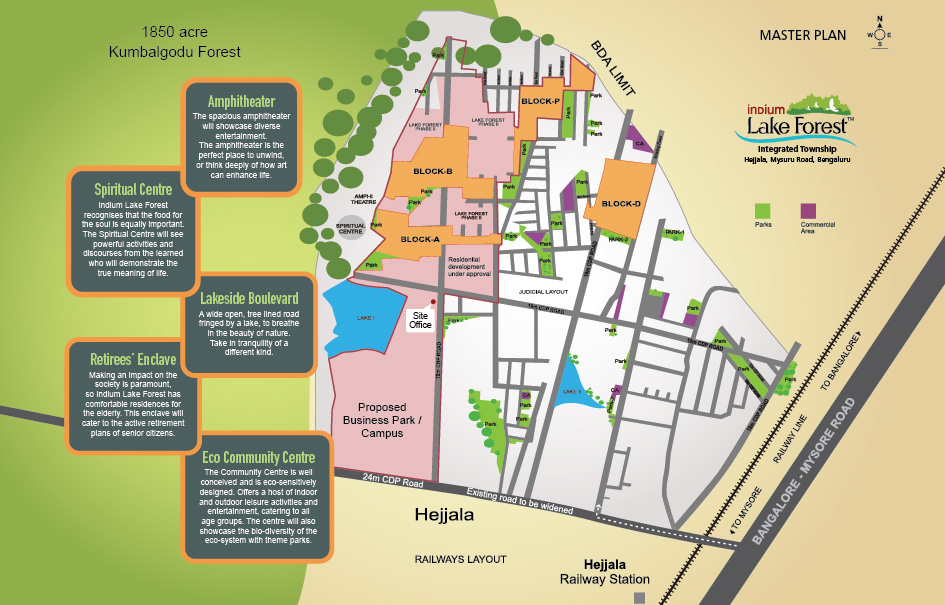 Site Map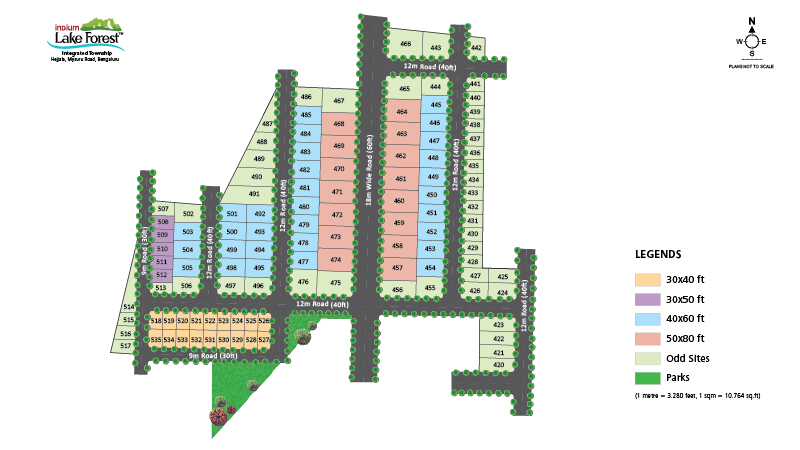 Available Plot Sizes:
30 ft. x 50 ft. (1500 sq.ft.) Sold-out
40 ft. x 60 ft. (2400 sq.ft.)
50 ft. x 80 ft. (4000 sq.ft.)
Odd sites (1596 sq.ft to 4521 sq.ft)
Note: 1 metre = 3.280 feet, 1 sqm = 10.764 sq.ft.
Road Specification:
9mt (30ft) Roads: The minimal road width in the township is 30 ft, which are part of the interior road network.
12mt (40ft) Roads: The minimal road width in the township is 30 ft, which are part of the interior road network.
18mt (60ft) Roads: All residential development in the township are connected by these wide arterial roads, which enable smooth flow of traffic in and out of the township.
Amenities
Concrete road
Concrete Drains
Underground Cabling
Overhead water tank
Avenue trees
Street lights
Children's Play Area
Jogging Track
Sewage treatment plant
Amphi-theatre
Spiritual centre
Rain water harvesting
Garden / Park
Secured Gated Entry and Exit
Retirees Enclave
Location
Welcome to Indium Lake Forest Integrated Township. Set amidst 130 acres of scenic, undulating landscape, with two picturesque lakes and the vast green expanse of the Kumbalgodu forest right next door. Conceived around nature's rich bounty with a harmonious blend of leisure and entertainment. You couldn't ask for a more perfect setting to build your own home.
Just 0.5 km from Mysore Road. Well connected to all areas of the city via Mysore Road and NICE Road. With all the conveniences of the city just a few minute drive away.
Close to the Global Village, Kumbalgodu, the Bidadi Industrial Area and the Bangalore Mysore Infrastructure Corridor – the hottest growth zone of Bangalore. Which means, the perfect investment opportunity for you.

Distances
| RR Medical College and Hospital | 6.5 km |
| --- | --- |
| Nice Junction | 7.5 km |
| Kengeri Satellite Bus Stand | 9.5 km |
| Bangalore University Junction | 14 km |
| Global Village | 12.5 km |
| Central Bus Stand / Railway Station | 24 km |
| Jayanagar | 28 km |
| Vidhana Soudha | 28 km |
| Rajajinagar | 30 km |
| Electronics City | 35.5 km |
| Silk Board | 41 km |
| International Airport/td> | 60 km |
| Mysore | 121 km |
Connectivity
Kengeri Satellite Bus station
NICE Rd to Electronic City & Tumkur Road
4-lane Bangelore-Mysore expressway
Bangelore-Mysore Rail line
Proposed Connectivity
Metro-Phase 2-Kengeri-Whitefield
BMICP-Bangalore-Mysore expressway
CRS-Commuter Rail System connecting
Bangalore city Junction to Ramanagara
Perfect Investment Opportunity
Global Village Business Park, Kumbalgodu and Bidadi Industrial areas have established companies like Bosch, Mindtree, Accenture, Mphasis, Toyota and many more... This means, perfect investment opportunity for you.
Approvals
Loans from banks and HFIs

GO TOP